Kiowa County was created on April 11, 1889, taking its name for the Kiowa Indians. The Missouri Pacific Railroad crossed the Kansas border in 1887 when the area was still part of a larger Bent County. The railroad platted towns approximately every seven miles. Incorporated towns are Sheridan Lake, Eads and Haswell. Unincorporated towns are Towner, Brandon, Chivington and Arlington. Kiowa County is dedicated to providing economic, social, health and other services to its citizens. 
KIOWA COUNTY COORDINATED ELECTION RESULTS, UNOFFICIAL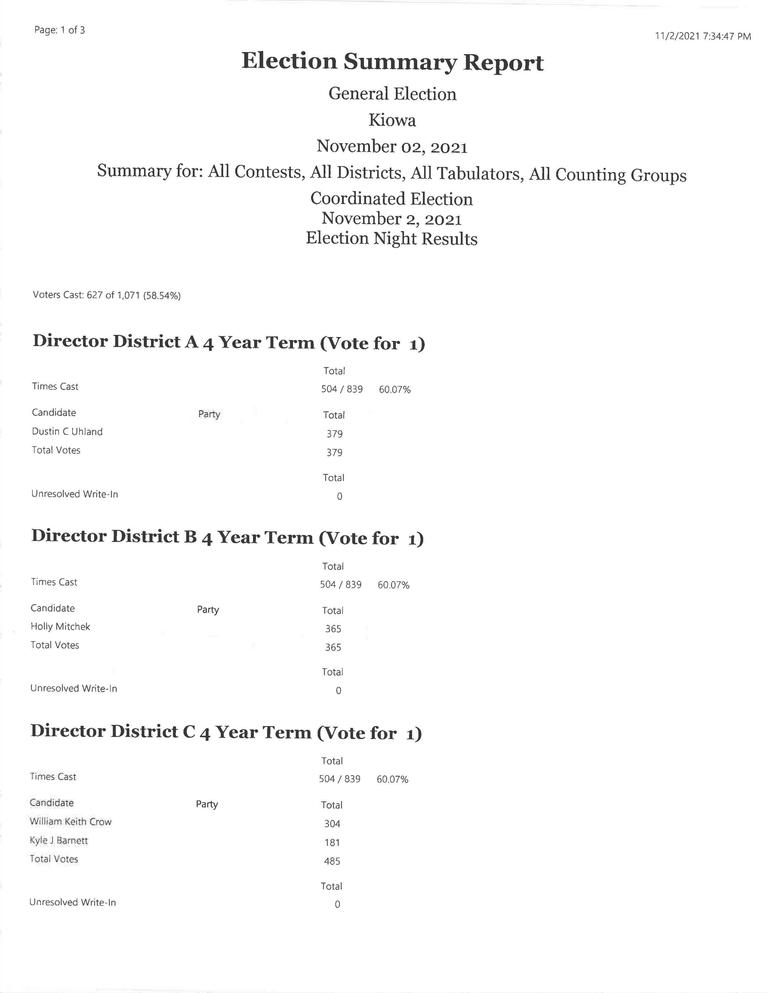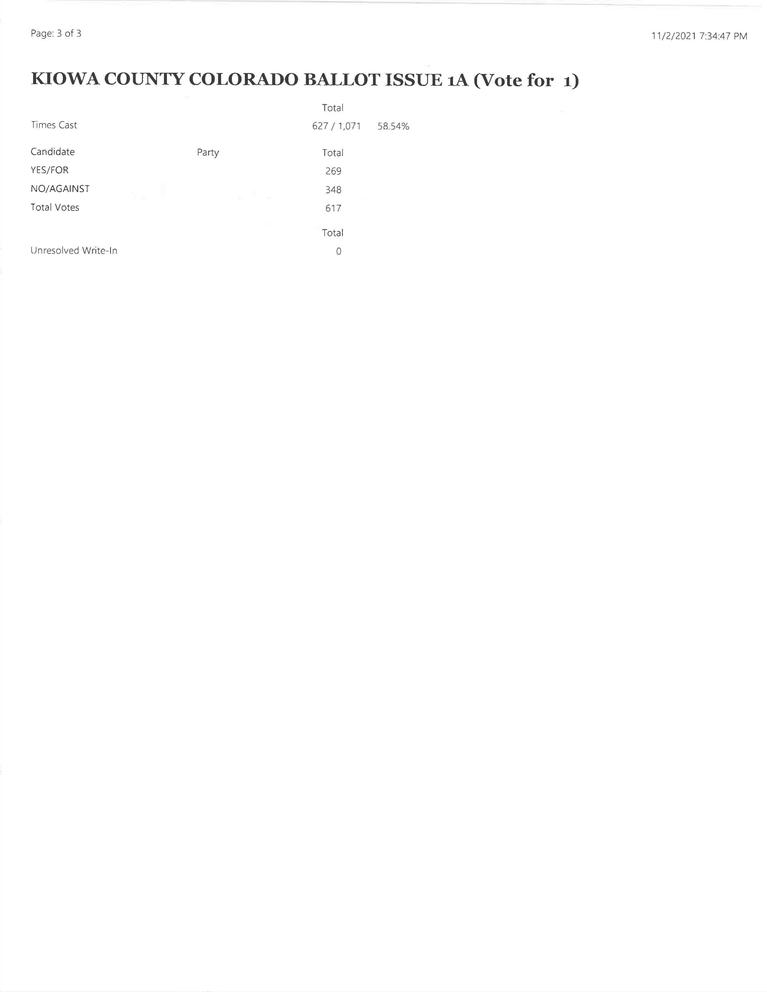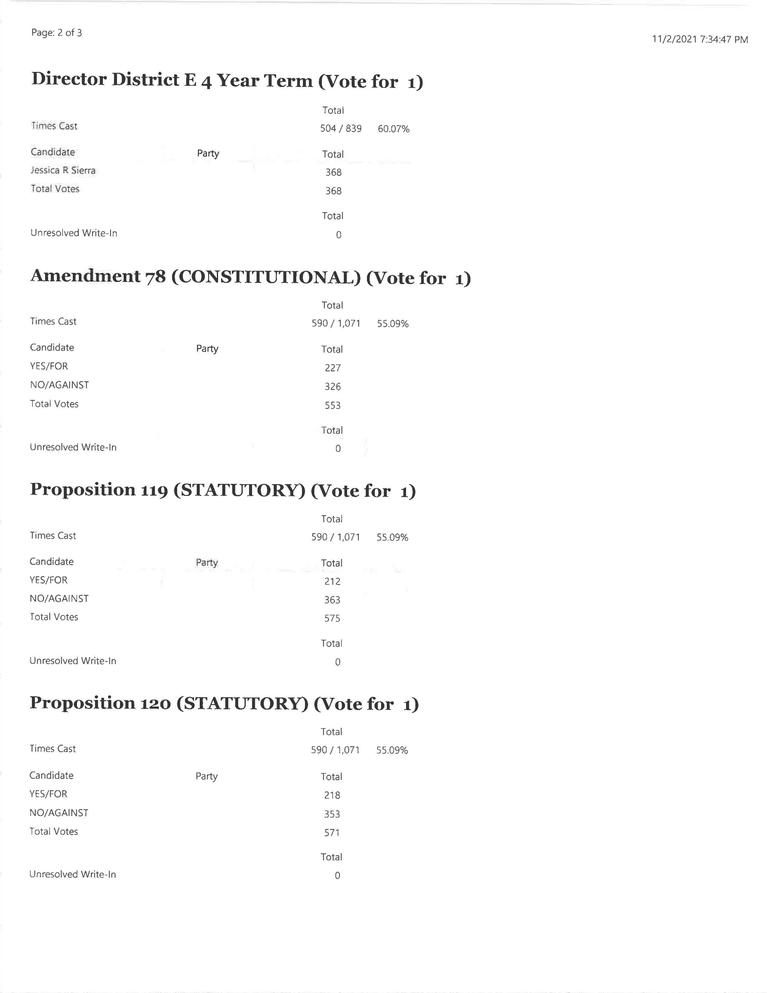 KIOWA COUNTY PUBLIC HEALTH
Clients are encouraged to use Phone and Email when possible to conduct business! 
To see if you are eligible for the COVID-19 vaccine at this time, please click here. If you are interested in getting the COVID-19 vaccine, please call Public Health at (719) 438-5782.
The Kiowa County Landfill will be CLOSED every other Thursday starting January 14, 2021 for recycling. For questions about openings, please call (719) 691-5426. Thank you!
Kiowa County Recycling Program
Kiowa County's recycling program is off to a terrific start! Right now we are able to collect and bale cardboard, plastics (#1, #2 and #5), aluminum and baling twine at the Recycling Center located at the old County Road and Bridge shop in Sheridan Lake. 
We have purchased 6 dumpsters - Orange with Black lids - that will be located at -- Towner, Sheridan Lake, Brandon, Chivington, Haswell and Arlington. These will be "FOR CARDBOARD ONLY". There are also brown pickup bed trailers with cages (Eads & Haswell) and chemical shuttles (all other locations) for "PLASTIC, ALUMINUM AND BALER TWINE". 
For a complete run down of what is accepted and where these dumpsters are located, please click here. 
VOLUNTEERS NEEDED
Right now we work in the recycling center from noon to 4 p.m. on Tuesdays and 9 a.m. to 3 p.m. every other Thursday.  We would appreciate volunteer help -- collecting plastic -- or cardboard; sorting of plastic; helping load cardboard in the baler; clean up after baling; giving ideas to help our program, unloading cardboard and plastic when it arrives.
We can also take aluminum and used baler twine.
In 2020 we baled and sold 68,000 pounds of cardboard and have already made a noticeable difference at the landfill. A bale of cardboard (60" x 48" x 30") will save at least 4.5 cubic yards of space in the landfill. A bale of plastic is reported to save as much as 15 or more cubic yards of space.
We would appreciate any help you can give the recycling effort. If you want to volunteer to help in any way, call the Commissioner's Office at (719) 438-5810!
Looking for qualified drivers! Must have or be able to obtain a Class C CDL, travel throughout Colorado & Western Kansas!
District 2, CDL requirements, heavy equipment experience preferred but not required. Great benefits! EOE.
District 1, CDL requirements, heavy equipment experience preferred but not required. Great benefits! EOE.
A listing of open positions through Kiowa County as well as an application is available under the "Jobs" tab. 
KIOWA COUNTY REQUIRES ALL NEW BUILDS, ADDITIONS, or MOVING OF BUILDINGS TO BE PERMITTED. A copy of the Building Permit can be found here.
Please contact the Commissioners Office at (719) 438-5810 or email kiowaco100@gmail.com for more information.
Permits are required for open burning in Kiowa County. Please contact the Commissioners Office at 1305 Goff St. or call (719) 438-5810 for more information. For a copy of the permit click on the following link 
There are currently vacancies on these Kiowa County Boards:
Towner Recreation Board
Weisbrod County Hospital Board 
Kiowa County Fair Board
LAVAA Board 
If you are willing to serve, please submit a letter of interest to the Commissioners Office, in the Courthouse:
1305 Goff St, PO Box 100, Eads, CO 81036
For more information, please call (719) 438-5810
Hours 
(Effective 10-01-2019)
Wednesday - Saturday 8:00 am to 3:30 pm
CLOSED Sunday - Tuesday
Payment Types: Punch Card, Checks or Credit/Debit Card "Please No Cash" 
Landfill will be CLOSED  if wind is over 20 MPH or if it is too muddy.
Anyone wishing to receive a text message when there are holiday or weather related closures can text LANDFILL CLOSURES and your NAME from your cell phone to (719) 691-5426.