Kiowa County was created on April 11, 1889, taking its name for the Kiowa Indians. The Missouri Pacific Railroad crossed the Kansas border in 1887 when the area was still part of a larger Bent County. The railroad platted towns approximately every seven miles. Incorporated towns are Sheridan Lake, Eads and Haswell. Unincorporated towns are Towner, Brandon, Chivington and Arlington. Kiowa County is dedicated to providing economic, social, health and other services to its citizens.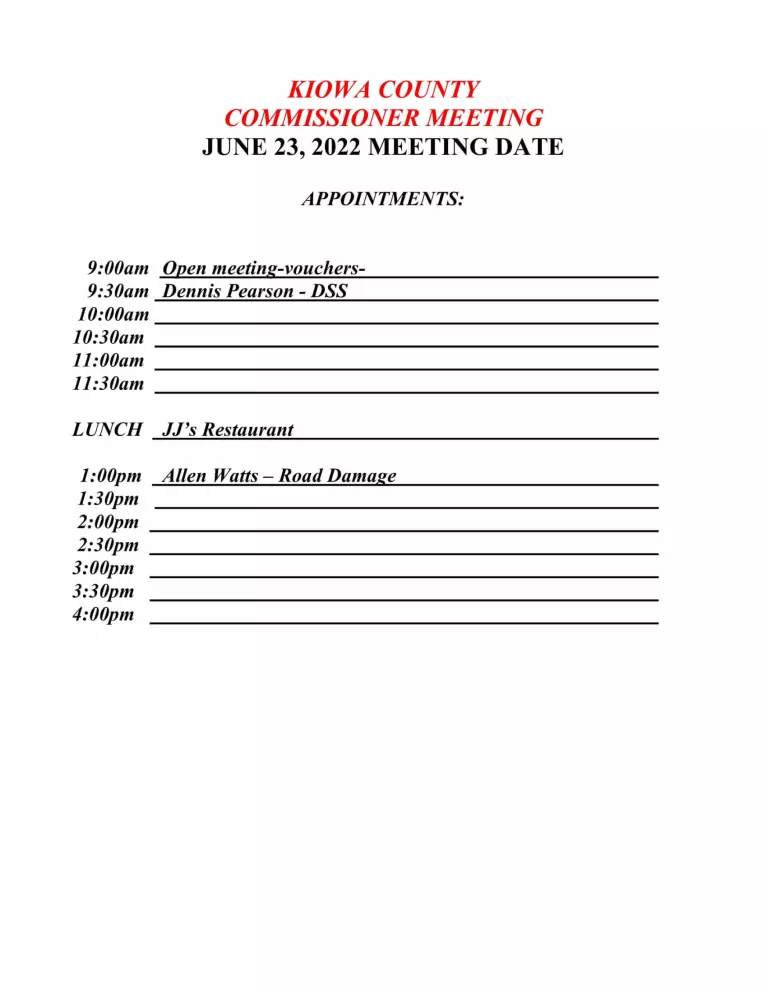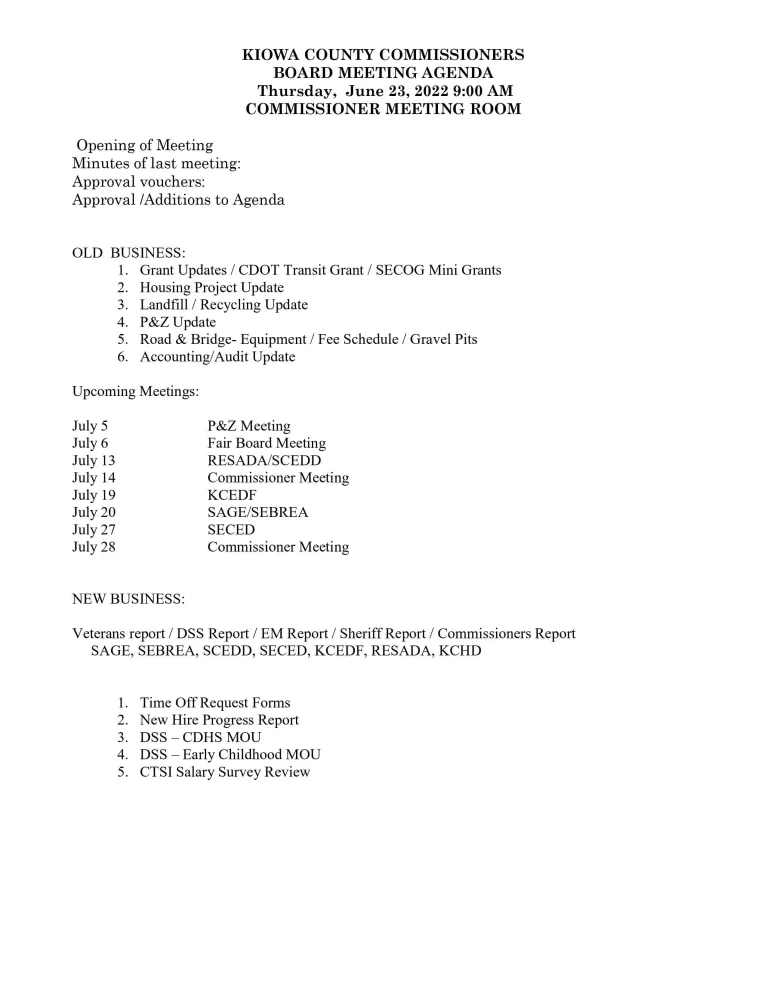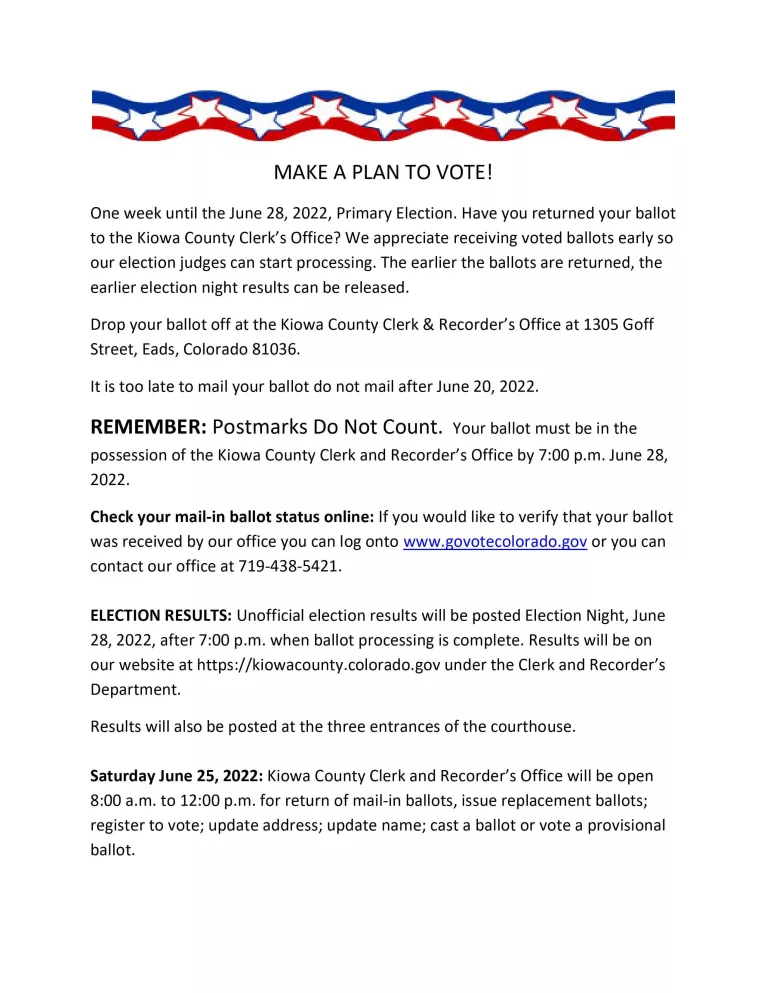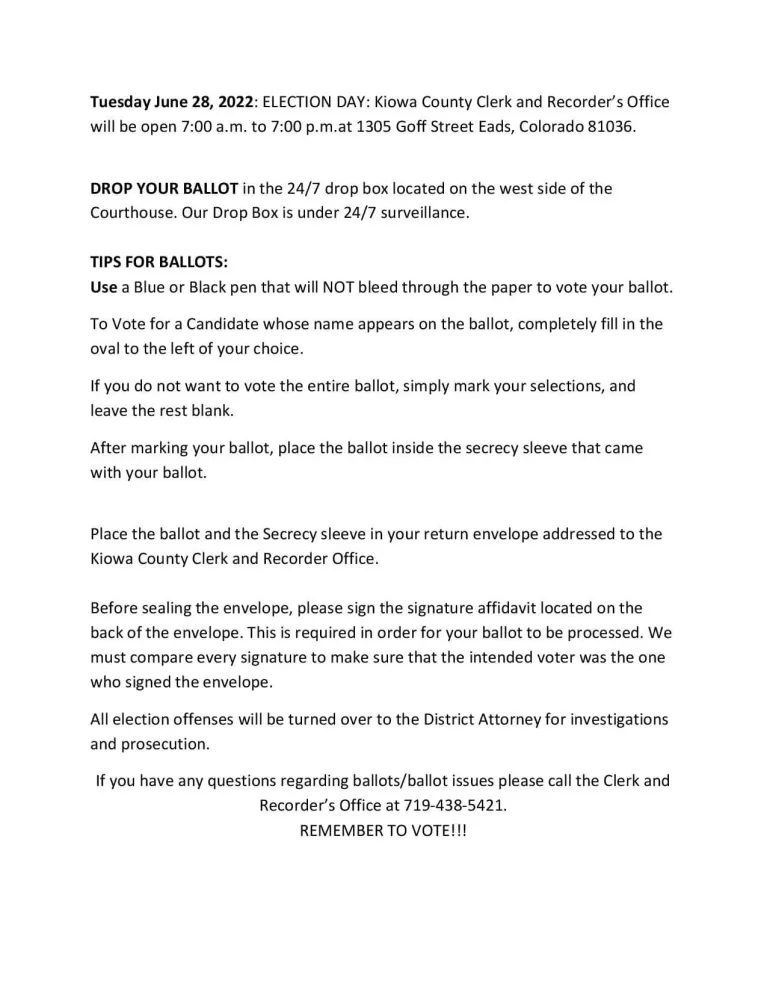 The Driver's License Office at the Kiowa County Courthouse will be CLOSED June 6, 2022 through June 28, 2022, due to the security of the upcoming election. Sorry for any inconvenience!
KIOWA COUNTY, COLORADO Date of Election: June 28, 2022 Mail Ballot Election
RECORDER'S NOTES By Delisa Weeks Kiowa County Clerk and Recorder Election Information: Primary Elections FAQs
2022 PRIMARY ELECTION KIOWA COUNTY June 28th, 2022 LOGIC AND ACCURACY TESTING (LAT) AS REQUIRED BY C.R.S 1-7-509 (2) (b) ON THE VOTING EQUIPMENT WILL BE HELD AT THE KIOWA COUNTY CLERK'S OFFICE MAY 31st, 2022 AT 9:00 A.M.
The Kiowa County Board of Commissioners are looking for
people who are interested in serving on the Fair Board,
 Towner Recreation District Board, Historic Preservation
Board, and West Kiowa County Cemetery Board.
  Interested persons are asked to submit a letter of
 interest to the Commissioner's Office at the courthouse,
1305 Goff Street or mail it to PO Box 100 Eads, CO
 or email it to kiowaco100@gmail.com
Kiowa County Landfill News
The Eads Landfill in now accepting RESIDENTIAL yard waste at no charge as long as it is delivered to the landfill by the resident in a load containing no other type of waste. If the resident hires a business to haul the debris to the landfill for them, they must accompany the load or send a signed letter with the hauler stating that the debris is theirs and include a phone number.
EADS LANDFILL * RATE CHANGE * Effective 05/01/2022 The Eads Landfill will be accepting residential organic yard waste (grass clippings, weeds, tree trimmings) for FREE as long as the load is YARD WASTE ONLY! Hours of operation are
Full time job opening. Valid driver's license required. General maintenance, janitorial, lawn care, basic repairs. Great benefits! EOE.
District 2, CDL requirements, heavy equipment experience preferred but not required. Great benefits! EOE.
District 1, CDL requirements, heavy equipment experience preferred but not required. Great benefits! EOE.
A listing of open positions through Kiowa County as well as an application is available under the "Jobs" tab. 
KIOWA COUNTY REQUIRES ALL NEW BUILDS, ADDITIONS, or MOVING OF BUILDINGS TO BE PERMITTED. A copy of the Building Permit can be found here.
Please contact the Commissioners Office at (719) 438-5810 or email kiowaco100@gmail.com for more information.
Permits are required for open burning in Kiowa County. Please contact the Commissioners Office at 1305 Goff St. or call (719) 438-5810 for more information. For a copy of the permit click on the following link 
There are currently vacancies on these Kiowa County Boards:
Towner Recreation Board
Kiowa County Fair Board
LAVAA Board 
West Kiowa County Cemetery Board 
Kiowa County Historic Preservation Advisory Commission
If you are willing to serve, please submit a letter of interest to the Commissioners Office, in the Courthouse:
1305 Goff St, PO Box 100, Eads, CO 81036
For more information, please call (719) 438-5810
Hours 
(Effective 01-01-2022)
Wednesday, Friday and Saturday 8:00 a.m. to 3:30 p.m.
CLOSED Sunday - Tuesday and Thursday
Payment Types: Punch Card, Checks or Credit/Debit Card "Please No Cash" 
Landfill will be CLOSED  if wind is over 20 MPH or if it is too muddy.
Anyone wishing to receive a text message when there are holiday or weather related closures can text LANDFILL CLOSURES and your NAME from your cell phone to (719) 691-5426.